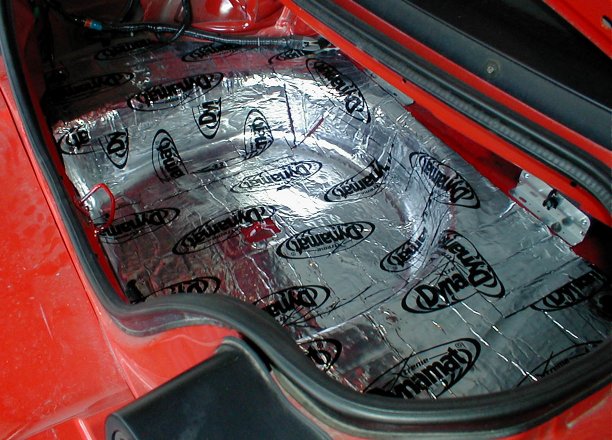 Reducing Road Noise in a Mustang Convertible

Dynamat
With the top up and windows rolled up, Mustang convertibles are noisy cars. The trunk has very little (almost no) sound deadening, and the only thing separating the trunk from the passenger compartment is a sheet of oilcloth (the convertible top's well liner) and a fiberglas panel (the inner trunk liner). You have to live with a lot more road noise than you do in a coupe.
I decided to look into sound dampening products to reduce this road noise, and I settled on the Dynamat Extreme Trunk Kit (P/N 19405) which contains five 18" x 32" pieces of Dynamat Xtreme sound deadener. The sheets consists of a paper release layer, a sticky layer of butyl, and an aluminum backing. It can be cut to shape with scissors before peeling off the paper backing and applying it to metal surfaces.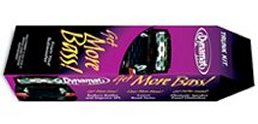 The MSRP on this kit is $140, but I had no trouble finding an on-line store selling it for $70. There are many cheaper substitutes to consider. But the alternative products I looked at were generally heavier, not as sticky or easy to apply, and they had a strong petroleum smell. Dynamat Extreme has no smell, goes on easily, and weighs 0.45 lb/sq.ft., or 9 lbs for the 20 sq.ft. in this trunk kit.
It took four sheets to apply one layer of dynamat to the trunk floor (shown above). I put the remaining full sheet on the smooth back of the fiberglass interior trunk panel. (shown below).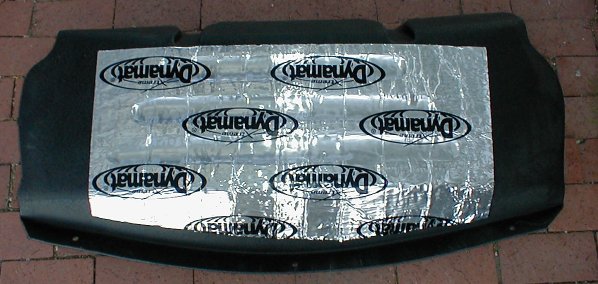 I don't know if applying this last sheet made any significant difference, but I wanted to make sure that the fiberglass trunk liner does not vibrate and transmit noise like a speaker into the passenger compartment.
I am pleased with the results. With the trunk liner and mat back in place you can't see any of the sound deadener, road noise has been reduced considerably in my car when the top and windows are up, and I've only added 9 lbs. to the weight of the car. If I was buying this car again, this is one of the mods (along with my Tri-Ax shifter and Global West subframe connectors) that I would probably do as soon as I got the car home from the dealer.

found @ http://www.miracerros.com/mustang
---